Desktop Publishing Specialist (DTP)
Position Profile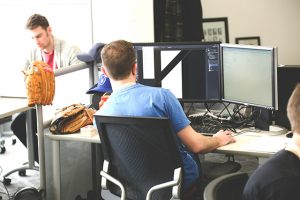 We are expanding our office in Plovdiv and we want to strengthen our position in the market. We are looking for long-term committed candidates who are able to take responsibility and achieve results.
We want to make our family bigger – JOIN NOW! Become a DTP Specialist in our team!

Main Responsibilities
• Assisting the Production Team with DTP Tasks – OCR, Recreation, Desktop Publishing of Adobe Creative Suite and MS Office documents, etc.
• Assisting the Software Development Team with Web Design tasks
• Design and development of online and offline marketing materials
• Evaluate and prepare project deliverables (on and offline documentations, art files and brochures) for translation following set quality standards. This process typically includes the verification of source files and fonts and the conversion of files for engineering.
• Format and PDF documentation, place and resize localized screendumps and art files, generate indexes and tables of contents.
• Assisting the Production Team with DTP Tasks – OCR, Recreation, Desktop Publishing of Adobe Creative Suite and MS Office documents, etc.
• Complete own projects on time and in line with quality standards.
• Provide daily feedback to the Account Manager on project tasks status.
• Coordinate, support and QA projects outsourced to external DTP resources.
• Create, edit and layout information in 1-StopAsia templates
• Collaborate effectively with clients and Production team members
• Keep up-to-date on software and technical knowledge
• Understand and follow all DTP and firm-wide processes and regulations
• Maintain all personal administrative data
• Take full ownership for own assigned work
• Comply with quality standards
Requirements
• High School or University degree
• Excellent communications skills in English (spoken and written)
• Advanced knowledge of MS Office Products (PowerPoint, Word, Excel, Outlook, Publisher), Adobe Products (Acrobat, InDesign, Illustrator, Photoshop, Frame Maker, Flash)
• Knowledge of ABBYY FineReader
• Advanced knowledge of design principles (color theory, typography, etc.)
• Advanced knowledge of user experience and interface design
• Demonstrated ability to work on Windows and Macintosh operating systems
• Strong problem-solving, quantitative, and analytical ability
• Strong organizational skills and attention to detail
• To communicate effectively and work in a structured way
• Ability to work with tight deadlines
• High attention to detail
What we offer
• Competitive salary
• Additional social benefits
• Ability to work in a highly motivated and friendly environment
• Potential for career progression within the team in Plovdiv and our other offices worldwide

If you have what it takes for the open position and you are not afraid of the challenge ahead, we want to hear from you. Please, send your short cover letter and resume (CV) in English. We look forward to hearing from you

Fill the form below to apply for this position.